CRM: Agenda
The agenda page shows the user's agenda in month format.
You can choose what to display on the calendar (Holidays, Calendar, Appointments, Events, Activities of all users) and also change the calendar format (Month, Week, Day, Agenda).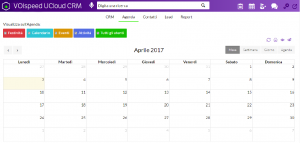 By clicking on any day, a mask is displayed that allows you to create a new appointment / event / activity for the selected day.

By selecting a new activity, the creation mask is shown, which offers, among other features, the ability to insert "on the fly" in the CRM a new Contact / Company / Lead to associate the activity being created. To achieve this, type the name in the text box and press the + key.
This function is also offered in all other creation masks.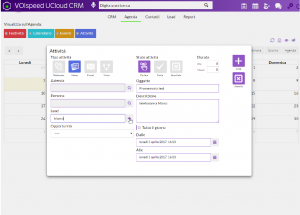 Figure: Associate activities