CRM: Appointments
Creating an appointment allows you to specify a Company and / or Contact type registry. If a company is specified, the address, telephone, etc. fields. etc. they are automatically filled in with the values of the registry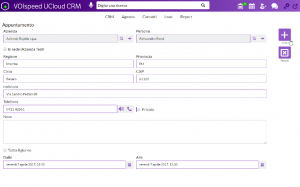 Figure: Creating an appointment
The new appointment created will cause the counters to be updated (summary panel in Today and the ribbon) and will be visible in the Agenda, Timeline, related master data and appointments list.
The latter can be filtered by Notes and can be ordered by date and end date.

By selecting the appointment, you can view its details, which includes information on the connected registry. To change the appointment, click on the gear next to the title "APPOINTMENT" displayed at the top.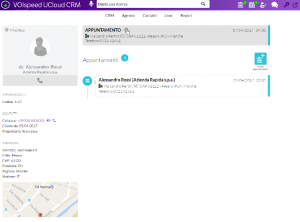 Figure: appointment detail