CRM: Opportunity
The creation of a new opportunity allows you to associate it with a Company / Contact / Lead registry and specify the phase, budget, amount and closing date. Each phase can be customized by the Administrator in the settings with name, color, percentage and opportunity status. Each phase is associated with a status of the opportunity (closed-won / closed-lost / suspended …).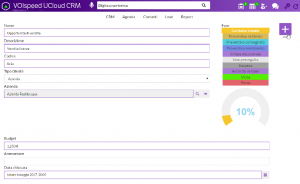 Figure: opportunity creation
The new opportunity in the list of opportunities that can be filtered by customer, opportunity name and sortable by budget, amount and creation date.

By clicking on the Forecast button, some textual and graphic statistics regarding the current user's opportunities are displayed.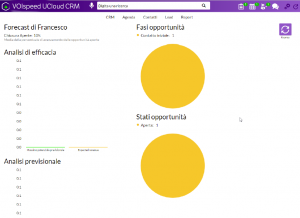 Figure: opportunity forecast
Individual Opportunity and Performance Dashboards in Today are updated with information about the new opportunity.

Figure: Individual opportunity and performance dashboards
The detail of an opportunity can be viewed by selecting it from the list and shows information on the personal data and activities related to the opportunity. Phase, amount and closing date can be modified directly from the detail, while the other information of the opportunity can be modified through the modification mask which is accessible by pressing the gear icon to the right of "OPPORTUNITY"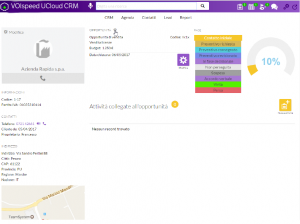 Figure: opportunity detail
Once the opportunity has been marked as won, the opportunity dashboard will be updated again