CS540 headset configuration and Yealink EHS36 adapter
The Plantronics CS540 headset and Yealink EHS36 adapter provide a complete DECT headset solution for Yealink IP phones (T27P and T46G compatible models).
KEY FEATURES OF THE CS540 DECT PLANTRONICS HEADSET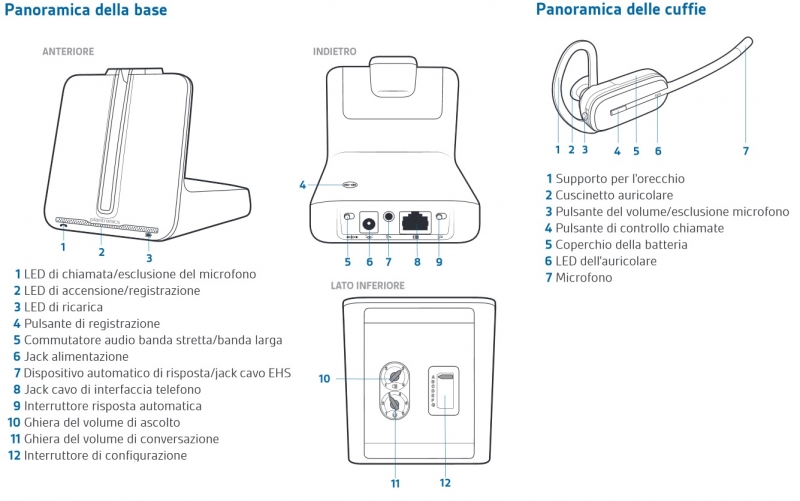 CONTENTS OF THE PACKAGE OF THE YEALINK EHS36 ADAPTER

EHS36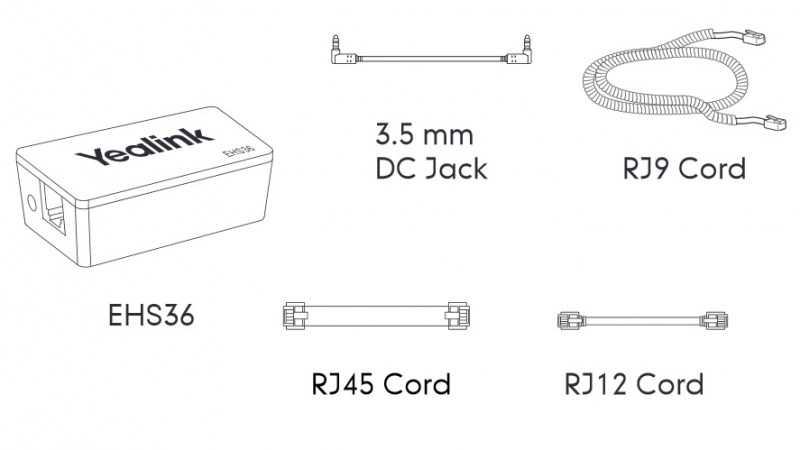 PLANTRONICS HEADSET CONNECTION DIAGRAM – ADAPTER – IP PHONE SCHEME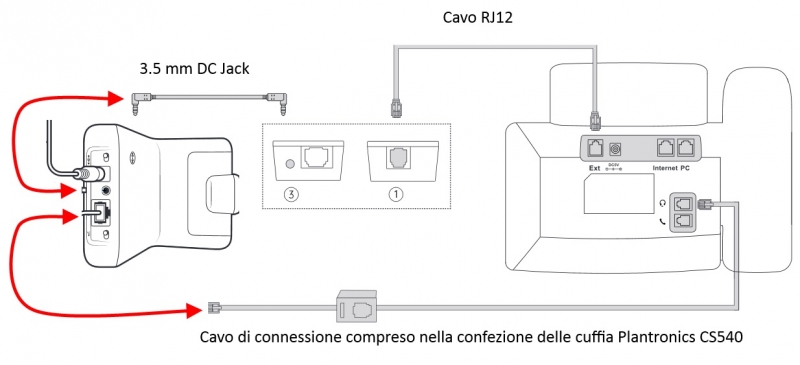 HEADSET FUNCTIONS PLANTRONICS
Headset The commands and notification LEDs on the headset are as follows

Volume button and microphone mute

by raising and lowering the volume lever (1) it is possible to raise and lower the volume in reception of the headset

by pressing the key, it is possible to activate / deactivate the microphone in conversation

Call control button

by pressing the button (2) it is possible to accept / close a call

Headset LED :

Flashes white when in use
HEADSET FUNCTIONS PLANTRONICS
Base The switches and buttons on the base are as follows:

Record button:

The headset and the base contained in the package are already registered (connected) to each other.

However, if you want to use a new headset or need to restore the registration of the current headset, the units can be registered with each other with the following procedure. Automatic secure registration


With the system inactive, docking a headset activates automatic registration of the headset to the base, making it the main headset. The Power / Registration LED blinks white during the registration process and turns solid white when the new registration is complete

.

Narrow / wide band audio switch

If your desk phone supports broadband audio, set the Wideband / Narrowband switch to yellow to switch to broadband

.

Set the switch to black (narrow band) for extended battery life or to increase the number of systems that can be used in a small area

.

Auto answer switch:

When the automatic answer option is set to black, to answer an incoming call you must press the headset call control button

.

When the automatic answer button is set to gray, you can answer a call by simply lifting the headset from the base

.