How to configure corporate voicemail boxes
The company voicemail boxes allow you to manage the messaging of particular company sectors or even the entire company in the simplest case in a lean and independent way. Each mailbox collects messages in a wave file and delivers them via email to the addresses indicated; it is also characterized by the possibility of having up to two administrators (or managers) chosen from among the users, who have the right to use and manage the voicemail directly from their GUI.
HOW TO CREATE A COMPANY VOICE BOX WITH THE VOISPEED SWITCHBOARD
In the Configuration – Voicemail menu, you can consult the list of existing voicemail boxes. The buttons

,

,
are used respectively to delete, consult and modify the configurations. To create a new mailbox, click on the button

.

VOICE BOX SETTINGS
After pressing the button

, the elements to be configured for managing a new voicemail are as follows: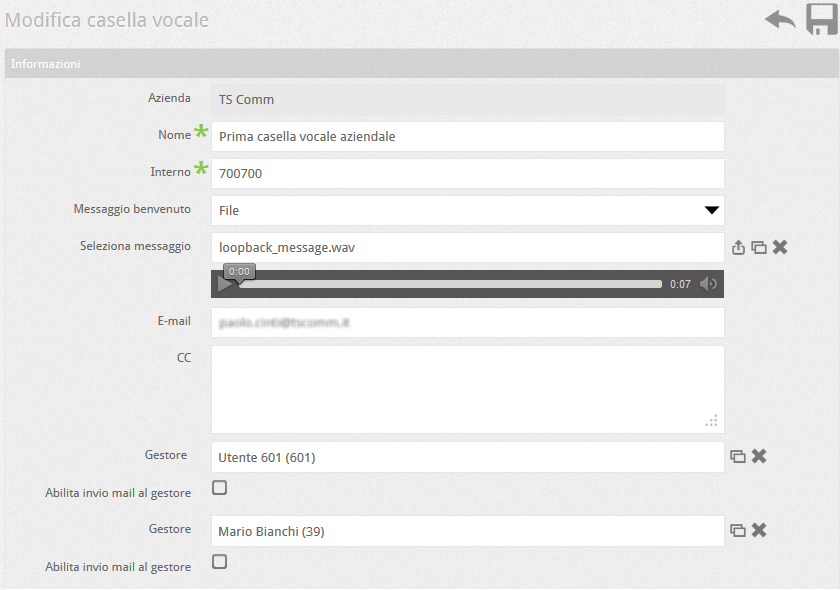 Name
Name of the mailbox (required)
Extension
Voicemail number (required). By calling this number, you can access the automatic answering machine for managing your voicemail (listening, recording, deleting messages). This mechanism is an additional voicemail management mechanism to that offered by the GUI.
Welcome message source

Choose the source of the welcome message to assign to the voicemail you are creating. A media player will allow you to listen to the message for verification.

Select welcome message
Select the audio file to be used as a welcome message; the message can have any name, but it must comply with the standard parameters managed by the VOIspeed switchboard for correct reproduction (8 kHz, 16 bit, mono). The message can be recorded directly from the GUI of the two managers, or through the IVR by calling the extension of the voicemail directly.
ATTENTION! the recording of the user message will start as soon as the welcome message ends; if you want to hear the classic "beep" to signal the start of the recording, it must be contained in the uploaded welcome file.

E-mail and Cc

In these fields enter the e-mails (main and copy), to which you want the recorded message to be delivered. The CC field allows the multiple insertion of emails separated by commas, or one email per line

Manager
Chosen from among the users, it has rights to access the voicemail directly from its GUI (in addition to that via the inside of the mailbox). You can choose up to a maximum of 2 users if desired.
ATTENTION! if you specify a carrier, your corporate voicemail will no longer be reachable via the extension number except for the specified carrier (s).

Enable sending mail

If enabled, it sends an automatic email to the manager indicating the voicemail number and any other configuration changes made by the switchboard administrator
VOICE BOX MANAGER STRUCTURE
The voicemail box, as well as from the operators GUI, can be managed through the associated extension number, by dialing which, you have access to an automatic responder. The main structure of the responder is as follows:
To listen to the menu items again

To listen to the messages left in the mailbox (if any)

To listen to your favorite messages. Favorite messages are set from the GUI via a flag.

To manage the welcome message (enter the following subresponder):

to return to the main menu

to hear the welcome message

to record the welcome message (the PBX will call your terminal from which you can record the message)

to restore the default welcome message