How to create a call reminder with VOIspeed
In this article we will see how to create a call reminder with VOIspeed, using the integrated tool in the My Activities section. A call reminder allows you to create an event on your VOIspeed that will take care of reminding us to make a phone call at the chosen time
After entering the My Activities TAB, simply select the button at the top right

.
In this way, a new dialog box will appear that allows the insertion of new activities in the personal calendar. Let's see in detail which fields to fill in to program a new call reminder: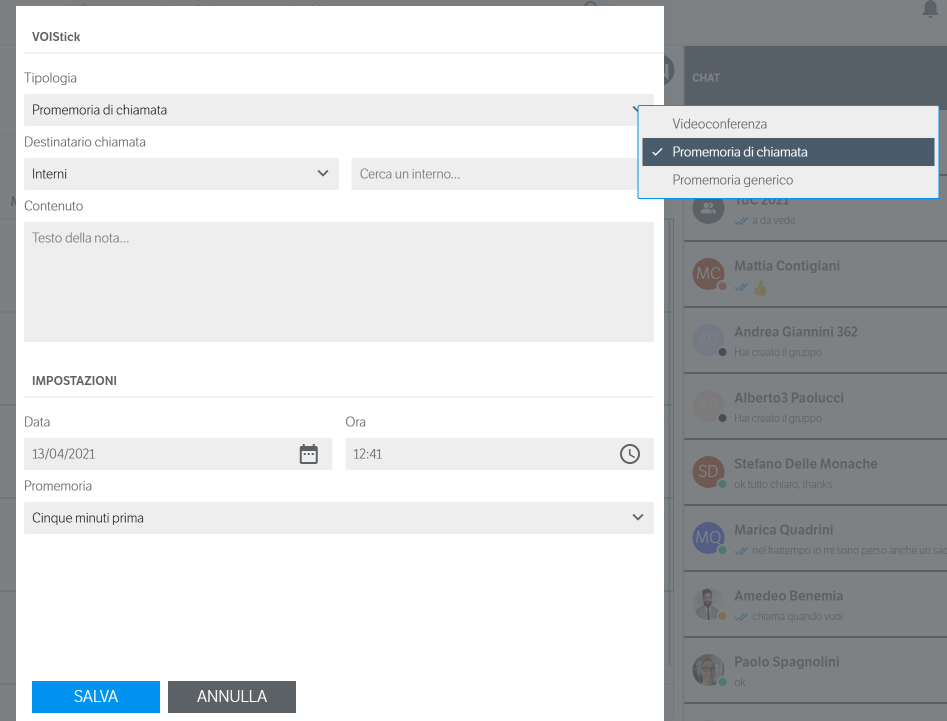 Tipology:
here you can choose between the various types of activities to be programmed between Videoconference, Call reminder and Generic reminder. Let's proceed with Call Reminder
;
Call recipient:
here you can indicate who you intend to call; the name can be chosen from the switchboard extensions, the contacts in the directory (the system will only recognize the contacts for which at least one telephone number is available) or enter a generic number
;
Content:
allows you to add information or notes about the call you are organizing
.
SETTINGS
Date:

enter the date on which you want to receive the notice of the reminder
;
Time:
allows you to define the time you want to receive the reminder
;
Send immediately:
allows you to choose whether to send the invitation immediately or to send only the reminders set below
;
Reminder:
allows you to define when you want to receive an automatic reminder to remind you when you need to make the call
.
Once these settings have been completed, the event will be visible in your calendar, marked with a green dot. By clicking on this element it will be possible to review the details of the memo itself.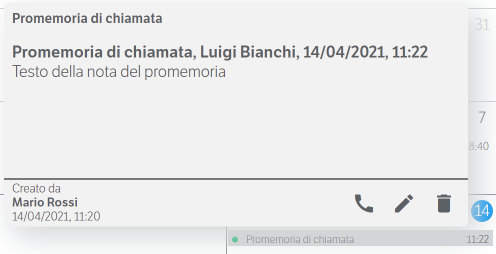 The detail thus displayed allows you to immediately retrieve the main information on the memo; furthermore, in the series of keys located at the bottom right, it gives the possibility to

:
Initiate the call to the contact entered in the memo

;

Change the scheduled reminder

;

Delete the reminder

.
Furthermore, the reminder will also appear in the Home TAB, in the SCHEDULED ACTIVITIES widget, obviously in the TODAY section relating to the expiration day of the reminder itself.