How to handle an incoming call with VOIspeed
The arrival of a new call is signaled by VOIspeed in two concurrent ways:
With the display of the call management panel in the left section where the information relating to the caller will be displayed (telephone number and / or name if present in the directory, department and group to which they belong) and the

options to answer or decline the call.

Through a notification from the PC application bar, which will indicate information such as calling number or contact name (if present among the users or in the address book).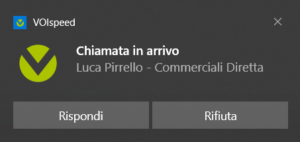 To answer the call, simply use the method provided by the selected device (e.g. answer from the telephone / cordless phone, use the button of a USB headset, answer from the APP) or, alternatively, click on the green handset

or Answer button.
To reject or end a call, click on the red handset

, click on Reject or use the command provided by the selected device.