How to manage the Meeting Rooms from your User Area
Introduction
The User Area is a section of the VOIspeed switchboard, through which the user can access some switchboard configurations. It is accessed via the web directly from the UI, via the button
which opens an Internet explorer occurrence containing the user area.


Manage the Meeting Room
The Meeting Rooms are a tool designed for holding meetings and telephone conferences between PBX users and / or external interlocutors. A meeting room is a "virtual room" (actually a telephone conference with several participants) that can be accessed by the interlocutors. Through the User Area it is possible to manage existing meeting rooms, but it is not possible to create them: this task is the responsibility of the administrator or a power user of the switchboard. Upon entering the section, you will therefore see the existing Meeting Rooms:

The characteristics of the meeting room are the following:
INTERNAL: this is the number to call to access the meeting room: the PBX will automatically create an implicit routing rule with maximum priority.
NAME: Name that identifies the meeting room
START / END DATE: this is the validity or opening period of the meeting room. Upon expiry, it will no longer be possible to enter the room.
ACTIVE: indicates whether the room is active or not (it can also be disabled during the validity period)
MODERATOR: is a PBX user, participating in the meeting, who has the task of moderating the conference. The moderator has the right to put all the participants on hold (who will listen to an appropriate courtesy message), putting the call on hold from his UI. Furthermore, ending the call from the proper UI will interrupt the entire conference.
# PARTICIPANTS: indicates the number of participants currently invited to the room.
By clicking on the edit button you can see the details of the room.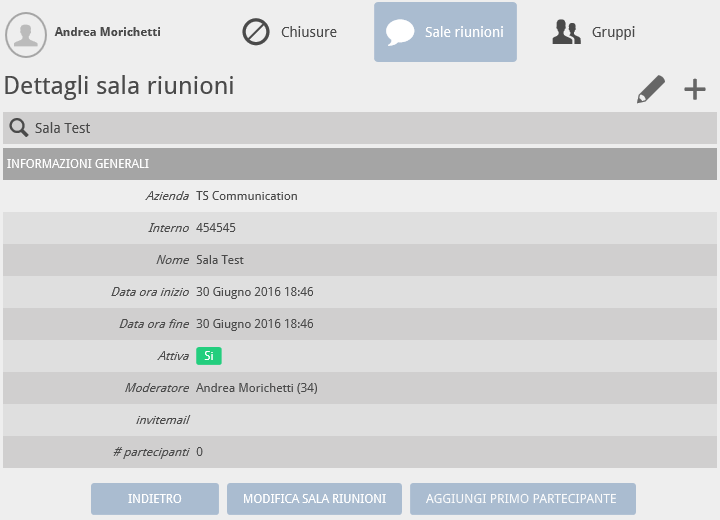 | | |
| --- | --- |
| It is possible to add the first participant or an additional participant to those present. The inclusion of a participant requires you to specify the participant's email address to which the PBX will send an invitation containing all the information to access the meeting room | |
By clicking on the pencil at the top, you can change the general settings of the meeting room: start / end date, activation / deactivation and invitation template for participants.