How to record a call with VOIspeed
VOIspeed allows you to make audio recordings of calls or conferences in progress.
To start a recording, simply click on the record button

in the call management panel, the button will be displayed as selected for the entire duration of the recording (as shown in the picture).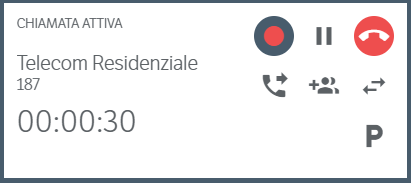 To stop recording, simply click again on the dedicated button or close the call.
Note
:
the user must have permission to record calls. If the user is not enabled, it is advisable to open a ticket for assistance.
HOW TO MANAGE A RECORDED CALL
Once the call object of the recording is finished, it is possible to manage the recording from the "Call Log" function page

.
In correspondence with the recorded calls (partially or totally), an additional "Record" option

will appear in the "Actions" section of the same. By selecting the "Recording" option, 3 selections will appear for managing the recorded audio:
Play ,

to play the audio from your computer's audio device

Download,

to download the recording in .mp3 file

Delete ,

to delete the registration