How to retrieve your voicemail messages from the UI
To retrieve your voicemail messages from the UI, you need to access the reports section by clicking on the icon

. In this section you will find the call reports, divided into missed, received and sent calls, recorded calls and voicemail messages.
In the case of messages from your own voicemail, simply click on the icon

to get a list of all files.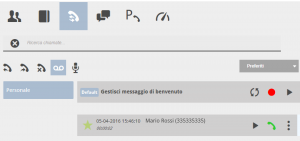 The first file that is always displayed at the top is the welcome message of the selected mailbox; this is the message that is played back to the interlocutor when connected to the voicemail..
This message can be managed using the buttons made available directly on the element. In particular:
| | |
| --- | --- |
| | Restores the welcome message (this operation returns the welcome message to the default) |
| | Record a new welcome message (registration will take place via your UI in connection with the selected audio device) |
| | Listen to the welcome message (this operation allows you to listen to the set welcome message for verification) |
The audio files of the recordings are presented providing information on the date and time of recording, duration of the recording and the number / name of the interlocutor with whom the call was held.
For each recording, 3 function keys are immediately visible:
| | |
| --- | --- |
| | Play the recorded file |
| | Calls the interlocutor with whom the call was held |
| | Opens a menu of additional functions on the call |
By pressing the menu key, the following additional functions appear:
| | |
| --- | --- |
| | Adds the number of the interlocutor to the contacts in the address book (visible only if the number is not already present) |
| | Deletes the message (asking for confirmation before making the operation final) |
| | Downloads the message to the user's PC |
| | Close the menu |
DISPLAY LOGIC OF MESSAGES AND FILTERS
The list of messages in the voicemail box is displayed, at each new access, according to a precise logic:
The new voice messages that have not yet been heard are displayed

If there are no unheard voice messages, your favorite voice messages are displayed
If there are no favorite voice messages, the time filter on the messages of the day is activated
Above the list is presented a customizable filter that allows you to retrieve and show the list of recordings as you wish; the available items are the followinge permette di recuperare e mostrare la lista delle registrazioni a proprio piacere; le voci disponibili sono le seguenti:
To listen to
Favorites
Today
Since yesterday
Last week
Last 30 days
Select period (following the selection of which two additional fields appear to indicate the customized period)
COMPANY VOICE BOXES ADMINISTRATION
In the event that the user who accesses the voicemail section is also the administrator of one or more company voicemail boxes, the section will be divided into two parts; on the left you will see the list of company voicemail boxes of which you are an administrator (indicated with the name that the switchboard administrator has assigned to them) as well as your own, indicated by the name "Personal".
By selecting the single mailbox, the list of messages (including the welcome one) will change accordingly; the visualization logic will always be the one seen in the previous point.