How to view the list of calls recorded by the UI
To view the list of calls recorded by the UI, you need to access the reports section by clicking on the icon

. In this section you will find the call reports, divided into missed, received and sent calls, recorded calls and voicemail messages.
In the case of recorded calls, simply click on the icon

to get the list of recordings.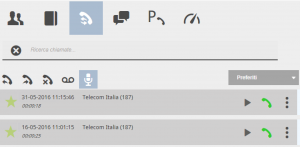 The recorded calls are presented by providing information on the date and time of registration, duration of the recording and the number / name of the interlocutor with whom the call was held.
For each recording, 3 function keys are immediately visible:
| | |
| --- | --- |
| | Play the recorded file |
| | Calls the interlocutor with whom the call was held |
| | Opens a menu of additional functions on the call |
By pressing the menu key, the following additional functions appear:
| | |
| --- | --- |
| | Adds the number of the interlocutor to the contacts in the address book (visible only if the name is not already present) |
| | Deletes the message (asking for confirmation before making the operation final) |
| | Downloads the message to the user's PC |
| | Closes the menu |
Each call also has a star which, if activated (the color of the star changes from gray to green), makes the call preferred; the favorite recorded calls are preferentially displayed when accessing the recorded calls panel.
MANAGEMENT OF FILTERS
The list of registered calls is displayed, at the first start, in order to present only the favorite calls.
Above the list is also presented a filter that allows you to retrieve and show the list of recordings according to a chronological order; the available items are the following:
Today
Since yesterday
Last week
Last 30 days

Select period (following the selection of which two additional fields appear to indicate the customized period).