VOIspeed users – general view
In this article we will see the main items available in the VOIspeed Users TAB and their meaning.
To access the Users TAB, simply select the key

in the VOIspeed central menu. This opens the main window for consulting the users connected to your switchboard.
The default view is the grid view as shown below:

In this mode, the user's avatar is immediately visible (where not present, the initials of the name and surname will be shown), the name of the user and the working status LED (for more information on the meaning of the LED color, see . "How to interpret the state of the interior VOIspeed"); moreover, by positioning the mouse on the user, the tooltip that will appear will show the user's status phrase.
Clicking with the right mouse button on a user will open the user's details.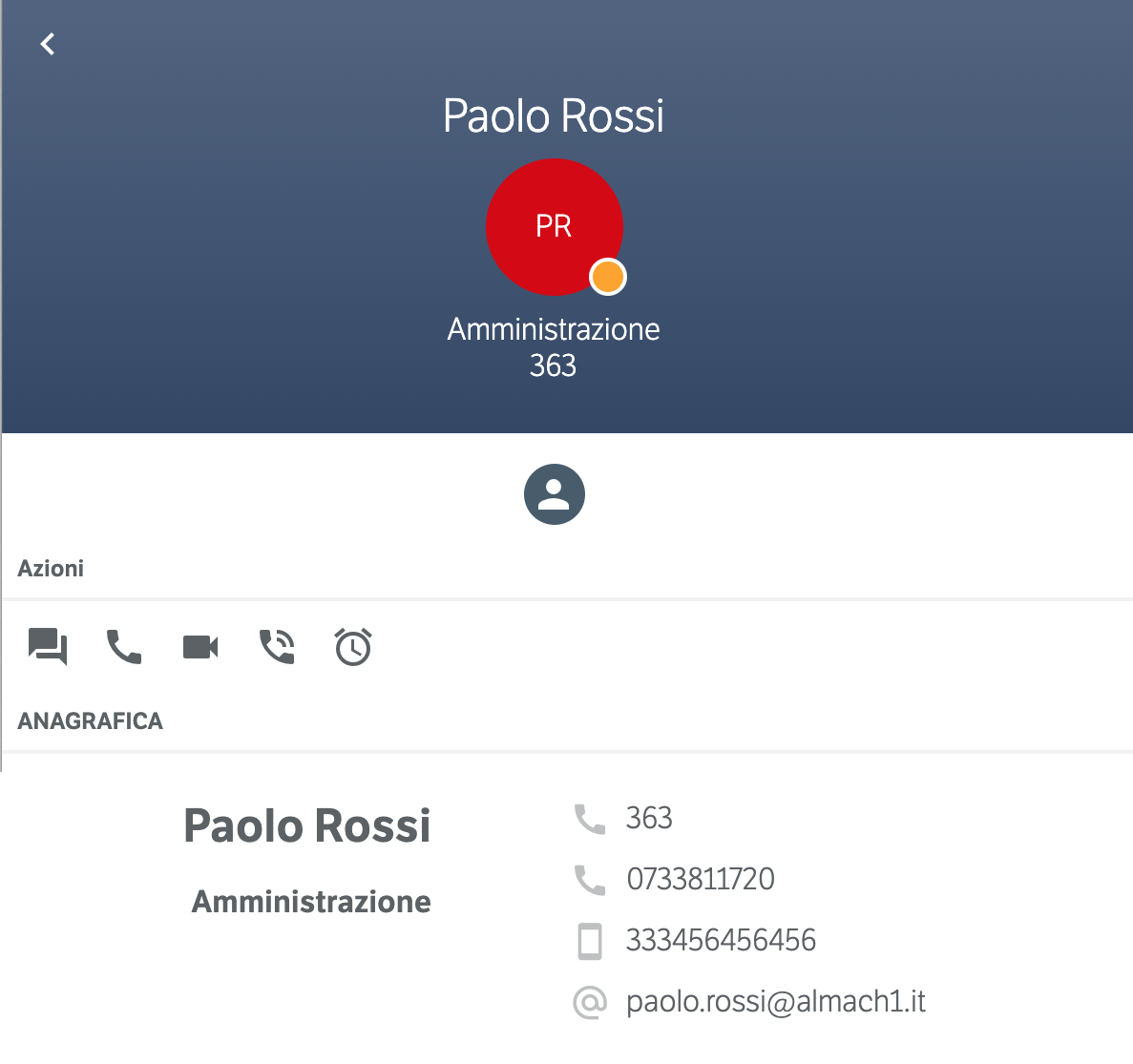 On this screen you can access the various actions on that user:
Start a chat

Initiate a call to its extension

Start a video call

Activate / deactivate the call reservation when free (available if the user is in a status other than Free)

Enable / disable the user status change notification
In addition, additional information about the user is visible (other company numbers and email address).
By clicking on this information you can initiate a call or send an email (your email client will open).
From the general Users TAB, by pressing the key at the top right

it is possible to switch to a more compact view, in table style: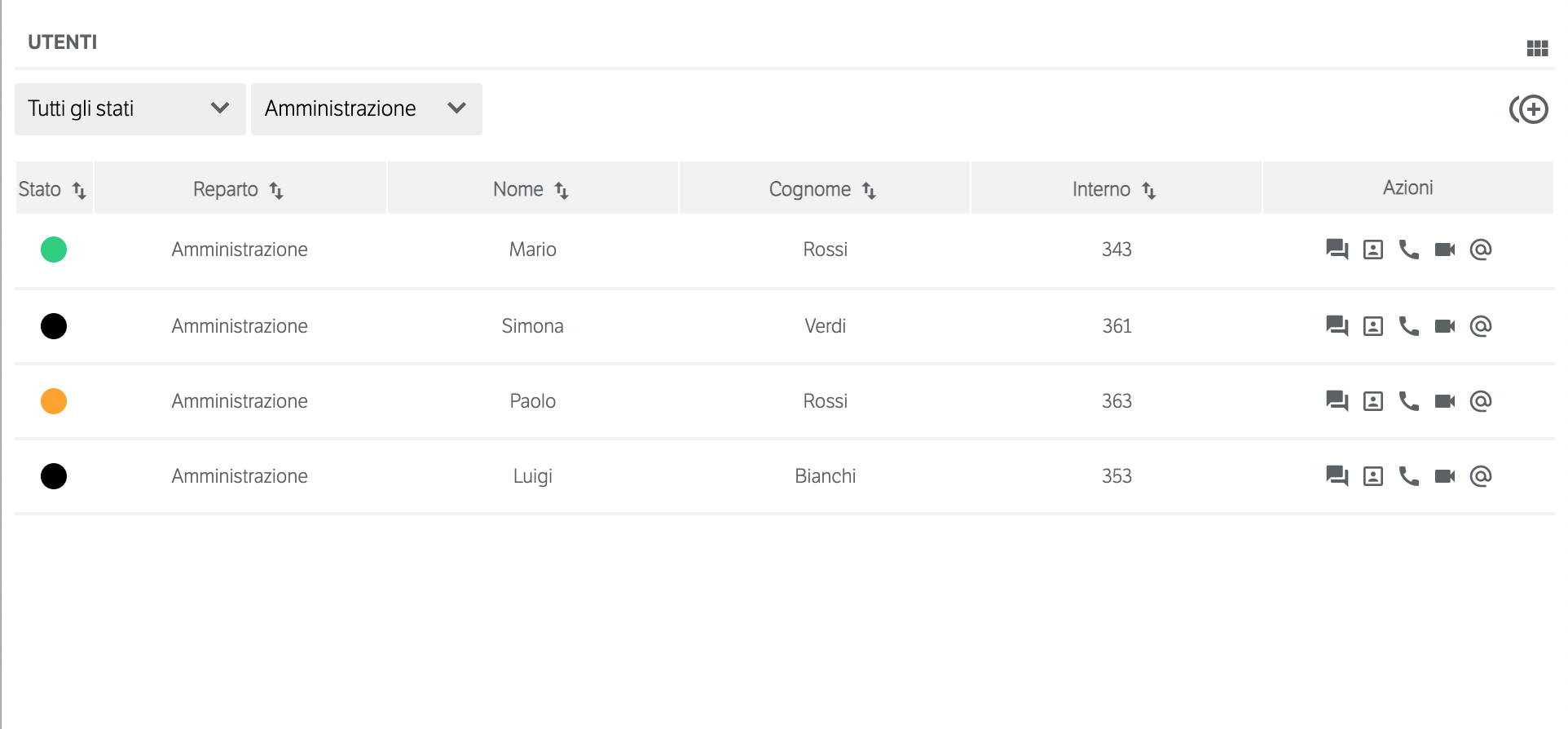 In this view, the visibility of the user avatar is lost but the actions available in the user detail become immediately accessible. In any case, to access the extended view of the details, simply select the icon.

.
By pressing the button

in this view, it is possible to return to the grid view
On this page, regardless of the type of display chosen, it is possible to act on two main filters.
The first on the left allows you to select all the users who are in a certain state at a given moment:
Free

Ringing

Busy

Do not disturb

Absent

Unreachable
The second filter allows you to choose a particular department to view (by default VOIspeed is positioned in the same department to which the user belongs) or All departments.
In addition, on the opposite side, there is a key that activates the selection mode

. 
 By activating this mode the view below changes, allowing the multiple selection of users to activate group actions.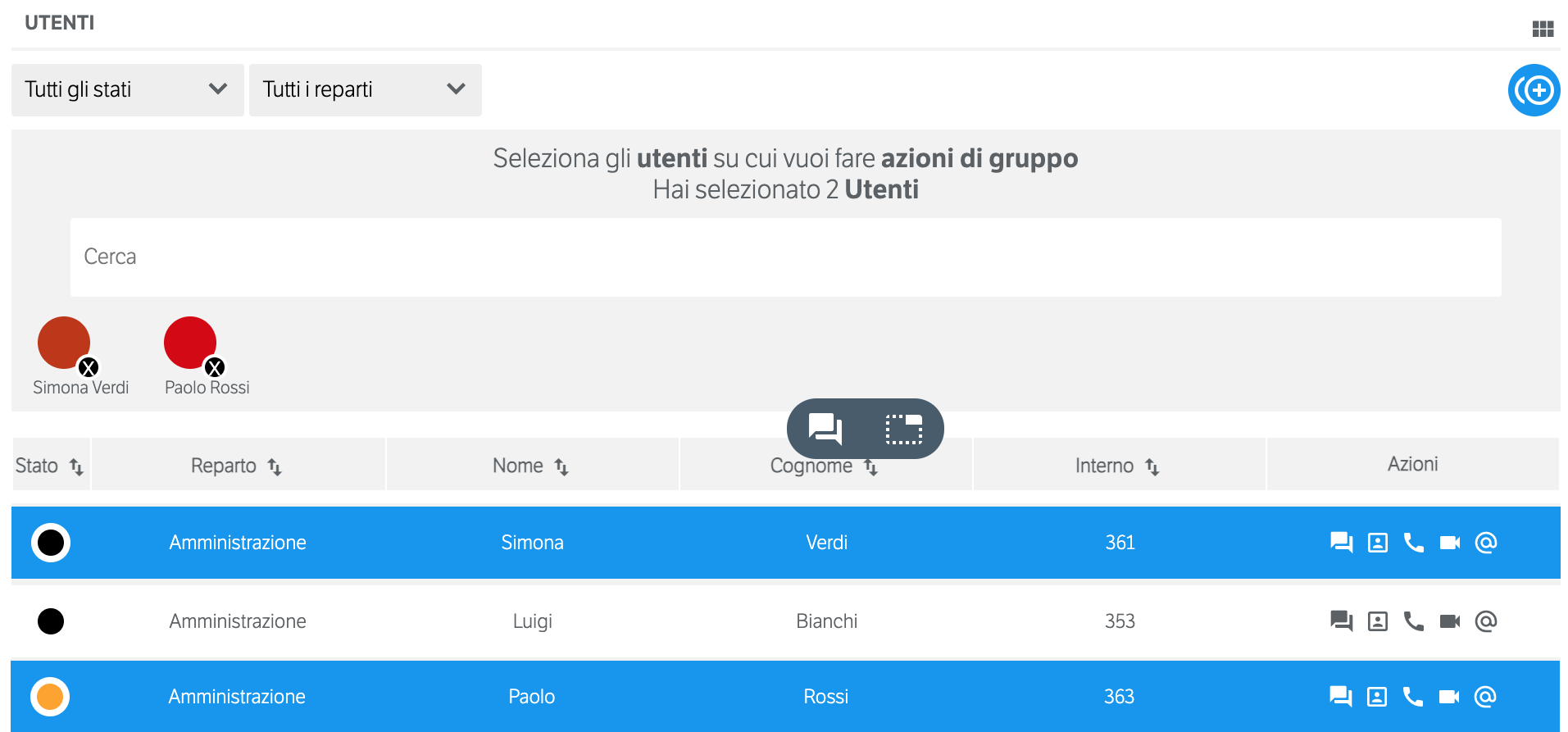 The contextual search bar allows you to easily find the users to select; the selected users are presented immediately below and can be excluded from the selection again by acting on the 'x' present on each of them.
When at least two users are selected, a contextual menu appears that allows you to activate a chat or create a customized department.