How the VOIspeed App works
The VOIspeed APP is an application that can be downloaded from the app store of your mobile operating system and can be used in association with your own extension created on a VOIspeed UCloud PBX
.
When it is started, a login screen is shown that allows you to enter the username and password received from the PBX when creating the extension (or that you customized after the first login of your UI); with these credentials, the APP will connect to the UCloud PBX and allow you to interact with it and with your colleagues using tools similar to those available in the U
I.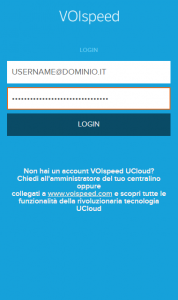 The first screen after logging in to the APP will show you a series of icons representing the tools available for using your extension on the go.
In practice, the APP consists of a collection of widgets; each widget is a feature (or collection of features) similar to what you are used to using with the UI. Obviously, the peculiarities of the instrument used (mobile device) required changes to the management of these functions and their interfaces; we will illustrate these features and their specific use below:
Telephone widget identified by the widget phone icon

contains all the features related to the telephone tool, namely the list of users, the address book, the call history and the keypad for making specific calls not related to the previous ones. For more information on the features available with this widget, click

 here;

Chat widget identified by the widget chat icon

contains the history of already active chats and gives the possibility to start new single or group chats. For more information on the features available with this widget

,

click

here.

Audio file report widget identified by the icon

contains the list of audio messages received in voicemail (your own and those of which you are an administrator) and all the calls recorded from your UI or App. For more information on the functions available with this widget

, click here.
The bar at the top is fixed and present in all screens showing some features that are always reachable:
user status: the icon with the user status can be clicked and allows you to choose which status to set in between Present, Do Not Disturb or Away and log out

;

user info: which shows the name, surname and extension of the user with whom you are logged in

active device: informing which device you are using for outgoing calls

settings icon: which gives access to an additional settings menu from which it is possible to

:

change the device used for outgoing calls

decide whether to reject the call on busy

decide whether to use the mobile phone also for direct incoming calls

decide whether to use the mobile phone also for incoming calls received as it belongs to a group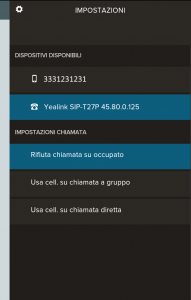 N.B. – If at least one telephone terminal or gateway is not logged into the PBX, the APP will not authenticate